About this website
FiTariffs.co.uk - the authority on the UK Feed-in Tariffs scheme
This site, www.fitariffs.co.uk, was created by Feed-In Tariffs Ltd, a company set up to provide information about the UK's Feed-in Tariffs.
If you are interested in acquiring the site, see below
This website is infrequently updated
We continue to update the tariffs table periodically. Otherwise because of the revisions at the end of 2015, this website does not reflect any changes after February 2016 (and in some respects even before then).
It still gives a very good assessment of the development of the FiTs and is widely used.
How many people use the website?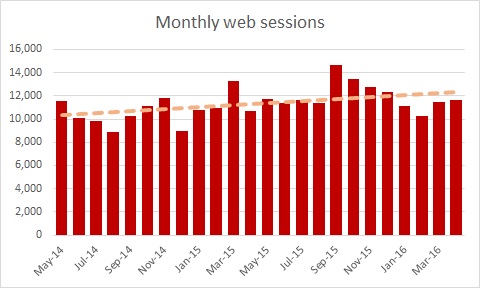 Our website has consistently been high on the first page on search engines looking for 'feed-in tariffs' (usually above the government's own page and the FiTs administrator Ofgem!)
Many visitors have told us how much they like the site. The number of visitors has been consistently high and, perhaps surprisingly, continues to grow slightly over time.
Do you want to acquire this site?
Feed-in Tariffs Limited was a subsidiary of Ownergy Plc and was sold to WolfeWare Limited, when Ownergy was liquidated. Now the feed-in tariffs are expected to stabilise at a lower level, WolfeWare would be happy to give the site (and Feed-inTariffs Limited, if you want) a new home with someone more actively involved in this part of the renewables sector.
As shown above, the website is highly ranked and receives a lot of traffic, so this would be a considerable asset. If you're interested, please contact us. We will respond promptly.
How we designed the website
We are passionate advocates of the tariffs - many call them the FiTs - and designed this site to provide information in a clear, concise and jargon-free way.
There are two main sections; one about the tariffs and the legislatiion on which they are based, and one about the tariffs for each eligible system type.
A supplementary section gives the statistics on how many FiTs-registered systems have been installed. A further section telling people where to go for further advice has been switched off.
If there is something you can't find on the site, check our FAQs page.